Yes. The Co-Optima Advance Card accesses your line-of-credit only. You should therefore continue to use your regular Co-Optima Card as usual.
You can start using your Co-Optima Advance Card the very next day after you receive it.
CarIFS: Means:
"Savings" line-of-credit
"Checking" share secured line-of-credit
There is no annual fee for the Co-Optima Advance Card. Transaction fees will apply as follows:
​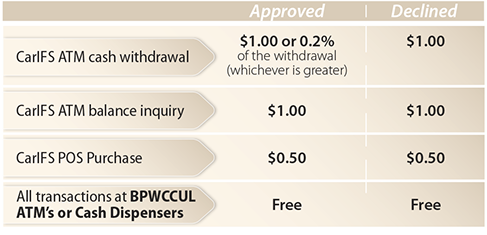 Yes. The maximum daily withdrawal amount is $1,500 across ATMs plus $2,500 at POS. This is in addition to the limits on your regular card.
If your card is lost or stolen you should immediately report it to one of the branches or the Contact Centre. There will be a $10 replacement fee for lost and stolen cards. If your card is damaged or stops working, we will replace it for free.
The Co-Optima Advance Card will expire three years from the date of issue. At this time a replacement card will be issued.
Avoid unnecessary fees by checking your balances first using any of our free Co-Optima services: